Welcome
Welcome to the website of the International Association of Hydrogeologists Commission on Managing Aquifer Recharge (IAH-MAR). Here you can discover what our working groups are doing and contribute to their current projects, you can download resources on MAR, connect with people, get information on symposia coming up, and join our email list to stay informed of latest news. We also have sister sites in Spanish and Chinese.
Managed Aquifer Recharge
Managed aquifer recharge, also called groundwater replenishment, water banking and artificial recharge, is the purposeful recharge of water to aquifers for subsequent recovery or environmental benefit.  It embraces methods such as riverbank filtration, stream bed weirs, infiltration ponds and injection wells, and uses natural water sources and appropriately treated urban stormwater, sewage and other waste waters to increase groundwater storage, protect and improve water quality,and secure drought and emergency supplies. Its growing scientific base supports its rapidly increasing use as a vital management tool in the sustainable use of the world's water resources.
Latest News
National Seminar on "Resilience of Groundwater Resources for Accommodating Changing Climate Scenarios" – 7 November 2020 in New Delhi, India


The National Seminar is organised by the Indian National Chapter of the International Association of Hydrogeologists in association with the Department of Civil Engineering at Jamia Millia Islamia, Faculty of Engineering and Technology. The seminar includes four main themes, including MAR: T1: Emerging Techniques of Groundwater Exploration and Management. T2: Managed Aquifer Recharge, Groundwater Contamination and Treatment Techniques. T3: Groundwater Resources vulnerability, resilience and sustainable management. T4: Community Participation, Governance and Regulation for feasible mitigation.

New USACE Report – Managed Aquifer Recharge (MAR) and the U.S. Army Corps of Engineers: Water Security through Resilience

The U.S. Army Corps of Engineerings (USACE), Institute for Water Resources (IWR) recently released a new report about the use of managed aquifer recharge in a variety of settings and purposes, throughout the United States. The report covers a wide range of uses for MAR such as flood risk management, aquatic ecosystem restoration, drought resilience, salt-water intrusion prevention, and multi-purpose projects. The report is available for free download from the IWR library.

International Summer School on Managed Aquifer Recharge organised by the University of Applied Sciences in Dresden, Germany, from 24 August to 4 September 2020 – postponed for 22 August – 4 September 2021

The two-week course offers M.Sc./Ph.D./professionals the opportunity to study basic, advanced and applied aspects of Managed Aquifer Recharge (MAR) and Riverbank Filtration (RBF). The course focuses on sharing and exchanging knowledge and new ideas in the field of MAR and RBF. The course consists of expert lectures, modelling exercises, laboratory experiments and technical excursions, supplemented by participant presentations and informal discussion sessions. The Summer School will be held in English and student participants have the option of receiving 5 ECTS-Credits. The number of participants is limited to 20 so if interested, make sure you submit your application by 30 April 2020. Download flyer for more information about the Summer School, draft agenda and contact information.

"Sixty years of global progress in managed aquifer recharge" among the Springer Nature 2019 Highlights

We are very glad to announce that the article authored by Peter Dillon, our former co-chair of the Commission on Managing Aquifer Recharge, and co-authored by further 30 members and affiliates of the Commission, was recently mentioned among the Springer Nature 2019 Highlights. The Commission acknowledges and highly appreciates Peter's contribution to the promotion of managed aquifer recharge worldwide, as well as the commitment of all co-authors to the compilation of this review of MAR progress over the past 60 years. Read the article here.

A whole day on MAR: Managed aquifer recharge as a real climate change adaptation mechanism. Examples and indicators from five countries.

Workshop organised as side event within the EIP Water Innovation Conference 2019 "Accelerating action to tackle water pollution and enhance EU preparedness to water-related climate change impacts". December 11, 2019, Zaragoza, Spain

Managed aquifer recharge (MAR) has been considered for a long time as an important solution to combat the adverse effects of climate change. The aim of this workshop organised as side event within the EIP Water Innovation Conference in Zaragoza, Spain, is to support this statement on the basis of real sites, indicators and cases located all around the world. Download workshop proceedings.

BSMAR17 Phoenix/Tempe, Arizona USA, April 1-3, 2020 – postponed for autumn 2020

RESILIENCE THROUGH RECHARGE AND RECOVERY, the 17th Biennial Symposium on Managed Aquifer Recharge (BSMAR 17), will be held at the DoubleTree by Hilton – Phoenix/Tempe, April 1-3, 2020 – postponed (see conference website for more details! This symposium will feature numerous oral presentations, poster sessions, optional workshops, field trips and an awards luncheon. Visit the BSMAR 17 website for more information. Call for ABSTRACTS is now closed.  See the Abstracts section of  www.bsmar.site. Questions or offers to help? Contact Mike Hulst at Mike.Hulst@nv5.com

ISMAR11,  Long Beach, California, April 11 -15, 2022 – A key to sustainability

Announced at ISMAR10, the next ISMAR will be hosted by California Groundwater Resources Association, Arizona Hydrological Society and Orange County Water District.  See the ISMAR11 web site for more information as it unfolds. Chair is Adam Hutchinson (OCWD), and co-chair is Doug Bartlett, (Clear Creek Associates, AZ). Committee members include Sarah Erck, Jim Strandberg, and Robert Bower.

This is a return to near where the first ISMAR began in Anaheim in 1988.

If you'd like to host ISMAR12 in 2025 please discuss with co-chairs of IAH-MAR by May 2021.

ISMAR10 Madrid 20-24 May 2019

A record 258 abstracts were received. Now there are a flurry of outputs from the symposium including web downloadable poster papers,videos of some presentations, available from the ISMAR10 web site along with information on the Proceedings when published. Papers are now populating the open access J Water special issue on Managed Aquifer Recharge for Water Resilience arising from a selection of extended ISMAR10 papers.
UNESCO MAR Case Studies Publication
UNESCO is in the process of has commissioning IAH and GRIPP to produce a set of exemplary MAR case studies that describe project initiation and development, evidence of sustainability, and economic evaluation and give a synthesis of each of these elements.  This is targeted at water resources managers with a need to understand how MAR can be adapted to contribute to their needs.   In January 2019 a call via the IAH-MAR email list gave explicit requirements for any potential contributors.  Based on submissions received, selected case study authors were invited to attend a meeting in Madrid on 19 May 2019 immediately before ISMAR10, to help finalise their contributions and discuss the synthesis chapter(s) on these topics, notably to help select meaningful sustainability indicators.  This is a combined activity of the IAH-MAR Working Groups on MAR for Sustainable Development, and Economics of MAR and of GRIPP. It is led by Yan Zheng, Andrew Ross and Karen Villholth, respectively, assisted by Peter Dillon.  Editing is continuing and about 20 sites now have the necessary information and give a broad geographic coverage for a wide variety of project types and scales.  The product document will be submitted to UNESCO in October 2019 for publication as a book. .. updated Sept 2019.

UNESCO Travel Scholarships to ISMAR10 –to support selected postgraduate students or early career scientists  from developing countries– Applications closed on 30 Nov 2018, and applicants have been notified of outcomes.
Congratulations to the successful winners of the highly competitive UNESCO Travel Awards:
Jose Bonilla Valverde
Costa Rica
Prahlad Soni
India
Mohammad Faiz Alam
India
Meng Ma
China
Lucila Araújo Fernandes
Brazil
Zhang Hexuan
China
Victor Hugo Rabelo Coelho
Brazil
Piya Mohasin
India
—————————————————————————————————–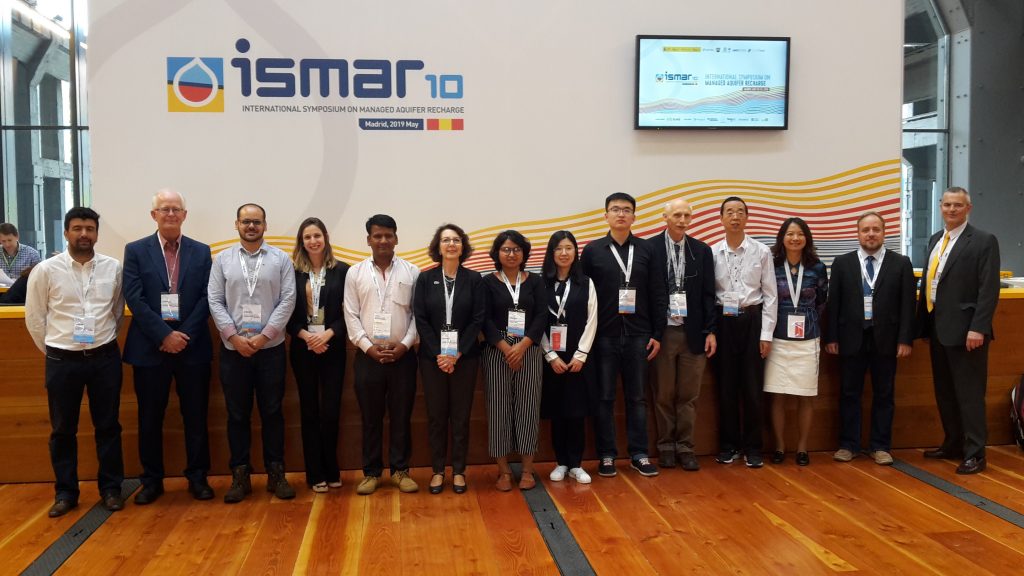 Jose Bonilla Valverde1, Bruce Misstear2, Victor Rabelo Coelho1, Lucila Araújo Fernandes1, Prahlad Soni1, Alice Aureli 3, Piya Mohasin1,  Zhang Hexuan1, Meng Ma1, Peter Dillon4, Wang Weiping4, Yan Zheng5, Catalin Stefan5, Enrique Fernandez Escalante5  (absent- Mohammad Faiz Alam1 )
1 UNESCO MAR Scholar 2019, 2 IAH Secretary General, 3 UNESCO Chief of Section SC/HYD/GSS,  4 former IAH-MAR co-chair, 5 current IAH-MAR co-chair