ISMAR10, Madrid, 20-24 May 2019

a record 250 abstracts submitted !!!
Based on presentations and papers, 18 papers will be selected at the Symposium for extension (~12p) and open access publication in J Water (citation index 2.1) without author charges for a special issue in J Water. Others may also submit for publication in the same special issue with reduced author charges.
All  papers will be eligible for ISMAR10 Proceedings to be published late 2019 (but papers selected for J Water will be abbreviated).
On 20 May 2 free workshops on

MAR site suitability mapping, and on
Developing managed aquifer recharge in Latin America

On 20 May at least 5 short courses (with fees) on

surface spreading
recharge and recovery through wells
water quality aspects of MAR
Technical solutions to increase Managed Aquifer Recharge effectiveness. MARSOL project findings regarding design and construction criteria, operation and management
Web-based numerical modeling and optimisation of MAR applications using the free INOWAS platform

On 22 May a Plenary of IAH-MAR
Optional technical tours will be held to

Los Arenales aquifer facilities in Sergovia Province
Guadiana channel, recharge wells and Daimiel National Park
ASR/ASTR deep injection boreholes in Madrid

UNESCO Travel Scholarships to assist selected postgraduate students or early career scientists  from developing countries to attend ISMAR10 – applications have closed and applicants have been advised of outcome
In addition : MDPI the publisher of J Water is pleased to announce that its "MDPI 2019 Water Travel Award" is open now. MDPI is inviting applications from postdoctoral and Ph.D. researchers who will attend an international conference in 2019.
The award will consist of three prizes of 800 CHF (Swiss Francs).
https://www.mdpi.com/journal/water/awards Submit by 31 Dec 2018.
ISMAR10 Topics and convenors of sessions (with a summary below)
—————————————————————————————————————————————————–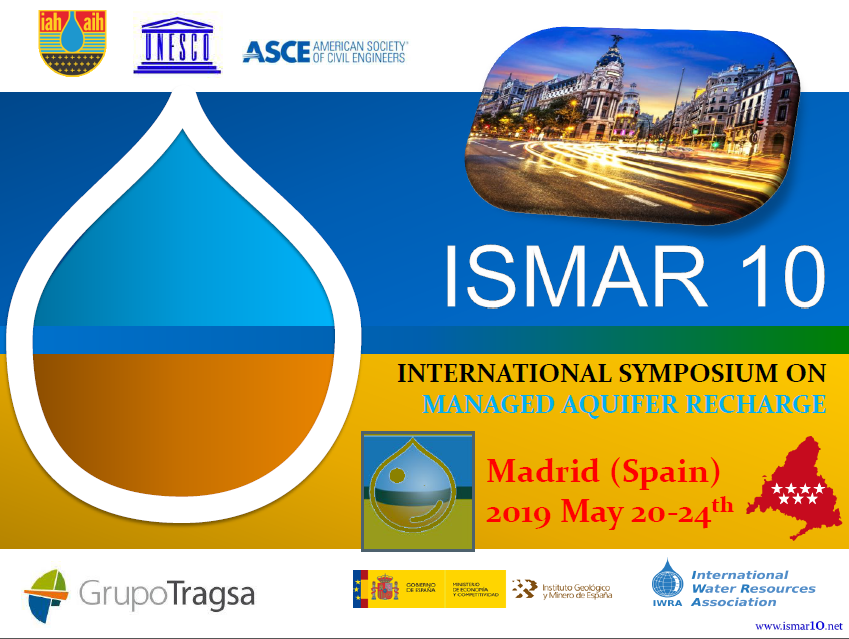 Everyone is invited to the Commission's next International Symposium on Managed Aquifer Recharge, ISMAR10, to be held in Madrid 20-24 May 2019.  Enrique Fernandez Escalante, co-chair of IAH-MAR, is chairing the organising committee.
The first and second circulars were released in Feb 2018 and June 2018 and the call for papers in September 2018 closed on 30 November.
ISMAR10 is held under the joint auspices of the International Association of Hydrogeologists (IAH), American Society of Civil Engineers (ASCE) and United Nations Educational, Scientific and Cultural Organisation (UNESCO).
The ISMAR10  symposium topics and milestone dates are below along with the first circular – a letter of invitation from Enrique that includes a clean copy of topics and milestones for you to consider and encourage your colleagues to plan to attend and submit a paper.